Classic Dixieland


We're 'old school'. We play the traditional arrangements in a traditional style. If you want straw hats and banjo, there are other good bands around for that, but that's not us. You just can't sit still listening to us play.


A Minnesota Jazz Funeral


- To pay honor to a departed soul.
- To illuminate the transition of life.
- To provide inspiration, comfort and joy through music.





Instrumentation


Band of Praise is based on the traditional New Orleans brass band. Instrumentation may vary based on the performance requirements, but always includes Trumpet, Clarinet, Trombone and Tuba

Band of Praise:
A Traditional Jazz Brass Band
Band of Praise was founded in 2007 by two trombonists. Their purpose was to bring the spirit of New Orleans brass bands and the jazz funeral tradition to Minnesota. The band seeks to remain authentic and traditional, while adapting to the preferences and needs of Minnesotans. Band of Praise is comprised of members of the American Federation of Musicians and the Twin Cities Musicians Union (Local 30-73).
FOUNDERS:
Don Lehnhoff, Leader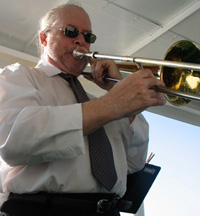 There weren't trombones in rock 'n roll at the time, so Dixieland was the first music Don learned to play. He played professionally all through school, served two years with the 440th U.S. Army Band at Ft. Bragg, NC, toured and recorded, and plays currently with the Just Friends Big Band and various other Twin Cities groups.
Don works in Advertising & Marketing in the Twin Cities area and is co-founder of BaltimoreJam.
Tom Huelsmann, Music Director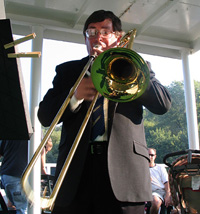 Tom is mostly retired from 34 years as band director of South Washington County Schools at all levels, including 22 years as Director of Bands at Park High School in Cottage Grove, MN. Tom was bass trombonist with the Minneapolis and St. Paul Civic Orchestras, and playing Dixieland goes back to his high school and college days.

Tom currently performs on bass trombone with the Minneapolis Trombone Choir and the Roseville Big Band.